After learning how to buy Paris Metro tickets you'll need to know how to use Paris Metro tickets. This article explains:
where to go after buying tickets from ticket windows or vending machines
how to use Paris Metro tickets to pass through gates & turnstiles
how to get to the right Paris Metro train platform
Access to Paris Metro train platforms is controlled via turnstiles or gate type barriers.  After buying Paris Metro tickets from ticket windows or ticket machines make your way to the closest fare gates or turnstiles.  Below is a photo of typical Paris Metro fare gates which separates public spaces from areas reserved for Metro ticket & Navigo pass card holders.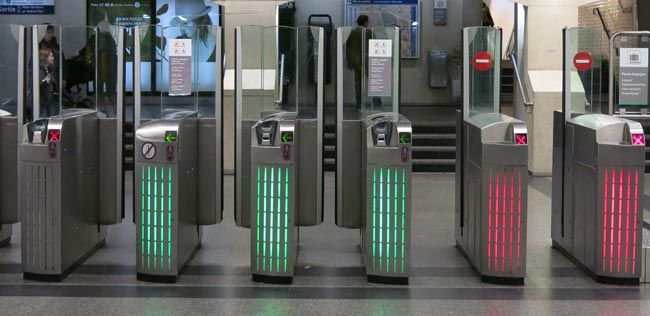 Things to note about Paris Metro turnstiles & fare gates pictured above:
All green/green arrow Paris Metro turnstiles / fare gates accept Navigo pass cards
Some turnstiles are reserved for exiting the fare-paid area (red with X's)
Most Paris Metro fare gates accept both paper tickets & multi-use Metro cards
A few fare gates will only accept Navigo pass cards and no paper coupon-style tickets of any sort
The key point: choose an appropriate fare gate depending on the Paris Metro ticket or card you are holding.
You don't want to walk up to a Navigo-card-only "reserved" gate holding a paper ticket, which won't be accepted, while a horde of hurried Parisians wait impatiently behind you to pass through and you are forced to apologize & weave your way back out past them to a line up for a different gate that will accept paper tickets.
Navigo reserved gates often have a sticker on the front indicating that no paper coupon Metro tickets can be used. If you're using Paris Metro Ticket t+… don't use these turnstiles / fare gates.  There are no slots for inserting paper coupon tickets and only have Navigo pass card readers.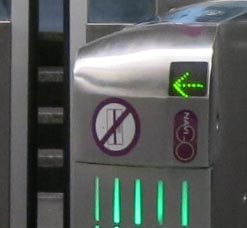 Also, don't walk up to red color fare gates which are open by default, expecting to get past without using your Metro ticket or Navigo card.  These red exit gates will slam shut as you approach, preventing you from passing through and you cannot use your pass or ticket to open them.  They are reserved for exiting passengers only.
Most Paris Metro fare gates will have a ticket slot on the front, some with a green arrow pointing towards it, indicating this fare gate is open and ready to accept magnetic stripe coupon-style tickets such as Paris Metro Ticket t+, Paris Visite, Ticket Mobilis, RER tickets, etc.  Underneath the green arrow can be a sticker reading: NaviGO, showing that this turnstile also accepts Navigo pass cards, which are used by holding the Navigo card on the top of the ticket slot device, where a large purple circular reading pad is located (see image further below).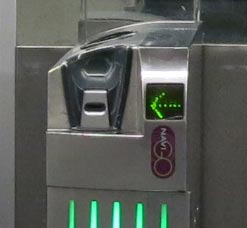 To operate a Paris Metro fare gate barrier or turnstile such as the ones pictured above with a Paris Metro ticket, insert the ticket magnetic stripe side down, into the barrier's ticket slot.  The ticket slot should be on your righthand side while inserting the ticket.  If you find yourself inserting a ticket on your left, you're opening the next gate over to your left, not the one you're currently standing in.
Upon inserting your Paris Metro ticket, it will be read, stamped (with a validation code) and then ejected at the top of the machine where you need to retrieve your ticket to open the gate / unlock the turnstile.
If the ticket is accepted, a short high pitched buzzing sound will be emitted, sometimes along with a message displayed on the turnstile requesting you take your ticket back ("Reprenez votre ticket"). Remove the ticket and walk through the turnstile or approach near the gate barrier and wait for it to open. Some gates are slow to open, especially double door gates which slide/retract outwards to let you pass. If your ticket appears to have been accepted, yet the gate has not swung open, be sure you have retaken your ticket from the top of the machine and that you're standing near enough to the gates in order to trip the visual sensor.  Be patient and don't panic. The gate should swing open within 5 seconds maximum. A ticket that is not accepted will cause the turnstile to emit a longer, lower pitched (unpleasant) buzzing noise, sometimes with a message in red indicating your ticket was not valid. Show your ticket to an employee at a ticket window or information booth for help in this case, saying your ticket does not work. They will usually open a wheelchair accessible gate for you to pass through.
Pictured below is a turnstile barrier gate inside a Paris Metro station with a locking barricade behind the rotating arms of the turnstile to prevent people jumping over the bars.  Notice there is no green arrow near the ticket slot (it's located further below on the front face) nor is there a Navigo sticker on the front (although you will see a large purple Navigo card reader area on top of the machine).  After the turnstile has been unlocked/opened with your ticket inserted into the front slot, you will need to retrieve your validated ticket from the top of the barrier machine.  Your validated ticket will be located past the purple card reader, where there is a rectangular depression in the metal and a dark area, which has the ticket exit slot and a little mechanical rotating sign that will read: "Reprenez votre ticket" / "Retrieve your ticket".  Collect your validated ticket and walk through the barrier.  Be sure to keep your Metro ticket with you until you complete your journey and exit your final destination Metro station.  If you are intercepted by a ticket controller without your validated ticket or Navigo pass, you will be fined on the spot for 35€ for having a valid, but non-validated ticket (i.e. a ticket that wasn't put through a ticket reading machine on the turnstile or fare gate) or 50€ for not producing any valid ticket at all.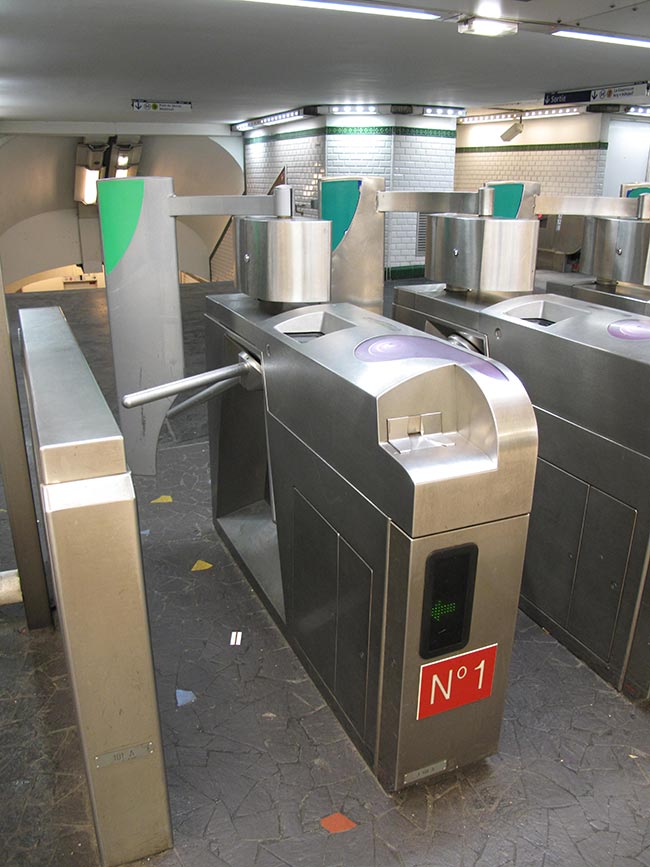 Operating fare-gate barriers with Navigo pass cards works by holding the card against the purple reader zone on the tops of the turnstiles or barriers. The Navigo pass card may take a second or two to be recognized by the transponders, so keep the Navigo card against the reader area until a "ding" sound is emitted for an accepted pass. Keep in mind that Navigo passes near the end of its validity period will cause the barrier to emit a buzzing noise instead of a ding, along with a message noting the date of expiry. Pass through the turnstile or gate as per normal.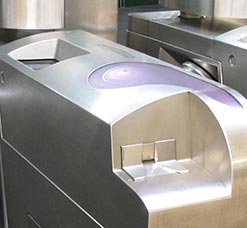 Many Metro stations serve multiple lines through several different train platforms within a single station. To find your way to the correct platform in the correct direction requires that you to keep a mindful eye on signs posted throughout the pedestrian tunnels.
Photo roboppy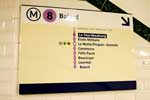 At each subterranean intersection you will see Metro line numbers and possibly station names which are used to denote direction of travel. Direction of travel is always denoted by the terminus station, the last station or stop on the line, rather than magnetic pole directions such as north, south, east, west. To understand whether the line is going in the direction you wish to travel, you should refer a Paris Metro map, which are posted near station entrances and on all train platforms.
Nearly all train platforms have overhead signs showing the time remaining till the next two trains arrive at the station, denoted in minutes. These signs are also a way to verify that you're on the correct line, heading in the correct direction. The photo below shows Metro Line 4 in direction of Porte d'Orleans with 4 minutes remaining till the next train arrives. On the opposite side of this platform will be another sign of exact same color and number, but the direction will be marked as Porte de Clignancourt, the opposite direction.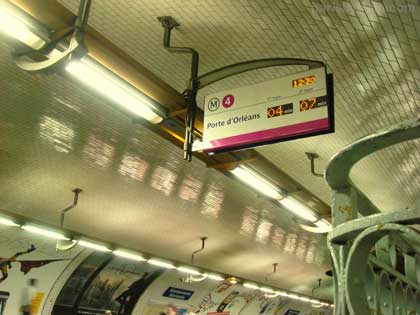 Keep in mind that the train arrival times posted on these signs are only estimates and are not always accurate. Due to traffic congestion and rider issues minutes may be added or subtracted at any moment.
On rare occasion, but worth mentioning, some Metro line platforms are accessed by traversing another platform for a different line. This means you'll arrive at a platform and think the current platform is the correct one, but in reality, your desired line is further along. Pay special attention to the overhead signs and the system maps posted on the platform walls to ensure you're on the correct platform.
Continue to…
After learning how to buy & use Paris Metro tickets it's time to learn How to Ride the Paris Metro train, opening train car doors, etiquette on boarding, exiting, seating and more, to help you ride the Metro like a Parisien.
What Next?
How to Use Paris Metro Tickets
was last modified:
May 5th, 2019
by